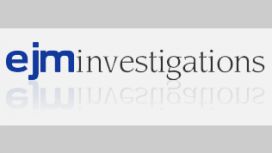 I am an investigator, not a writer, where do I start? I know what we do, how we do it, and why I have a business which is going from strength to strength, but all that information is found elsewhere on the site. Pages which explain services, blogs which detail where those services apply to real life, and testimonials from clients saying what they like about us. So.rather than more of the same, I thought I would tell the story of EJM Investigations, and give an insight into it's history.
I was 18 when I first took an interest in becoming a private investigator. I had completed 2 years at college and walked away with 4 a-levels in science and maths. After joining university I quickly realised I wanted something fresh. I signed up to some online investigation courses and began to learn the trade. I quickly picked things up, finding investigation work was very similar to the science I had studied. All ideas, apply methods, analyse the results (or evidence in the case of detective work).
---
Reviews and Ratings
We do not have any reviews about EJM Investigations available right now.